The Carnivore Diet
The Carnivore Diet seems to be the flavor of the week in the dieting industry.
This diet has actually been around a long time but recently resurfaced due to Dr. Shawn Baker. He is a doctor that started eating only meat for a lot of reasons, but mainly because he found he could stay lean and recover faster when eating only steak. He also noticed the disappearance of bloating, health issues, joint pain, cravings and a whole plethora of other benefits.
In terms of macros, the carnivore diet is a zero carb diet with more protein than a traditional ketogenic diet. It reminds me of old school bodybuilder diets that Vince Gironda and Arnold Schwarzenegger used to use to get really ripped.
This is a red meat diet though, which is where it truly differs from Keto. The reason is red meat is actually a very dense and nutritious food. It contains many of the fat-soluble vitamins, minerals and nutrients and delivers them in a streamlined dose. Meat is easy to digest and the fat from the meat also helps the nutrients to be absorbed. The low fiber also counteracts some of the binding that can occur with nutrients being absorbed. Another really good food to eat in addition would be Eggs as they fit the same bill as red meat. Some people have allergies to eggs though, which is why red meat usually works better. The dietary fat from the meat also has been shown to increase testosterone levels. Testosterone levels also have a lot to do with the overall nutrients you are getting, so the nutrient/ dietary fat combo makes it a great food to help with this.
Another interesting benefit of this diet is actually pretty cheap. If you substitute out the steak for ground beef and eat some eggs to replace one of the steak meals, the diet is very cheap. You get more calories per dollar. With vegetables, you can eat way more volume, but this comes as the expense of bloating, gas, indigestion, a sluggish "heavy" feeling and it's more expensive because the food is so low in calories that you have to buy more. Vegetables usually don't help your appetite very long either. They are initially filling, but 1-2 hours later you are hungry again.
The zero carb aspect is also very important for the overall health gain you get. Low carbs have been shown to be very helpful in managing blood sugar-related diseases (think type 2 diabetes), helping to lower cravings (again likely due to blood sugar), restoring health (tend to be loaded with nutrients / higher quality foods) and sensitizing the body to insulin and carbs. This list could go much longer, but I came from a family history of type-2 diabetes, so I'm always conscious of this. These diseases are built over time, so it's important to eat in a way that feels right.
I find this diet intriguing. I don't think I could ever do just red meat, but I could adapt a diet pretty similar. I went to Costco and bought 5lbs of 88% lean ground beef for $15. Deals ;). I also bought some eggs from Aldi that I got for $0.40 a dozen. My grocery bill is going to get very cheap. I've done this diet the past 2 days and have already dropped 3lbs. Yes, its mostly water weight, but I actually look visibly leaner and my stomach is really flat with very littly bloating. I have also eaten 2500 calories a day these past two days, which for me is way too much to burn fat on. Nevertheless, the scale is down and I look leaner. Winning ;).
I'm going to run this diet for the next two weeks with maybe one cheat day thrown in. I love the simplicity of it and hope the results continue.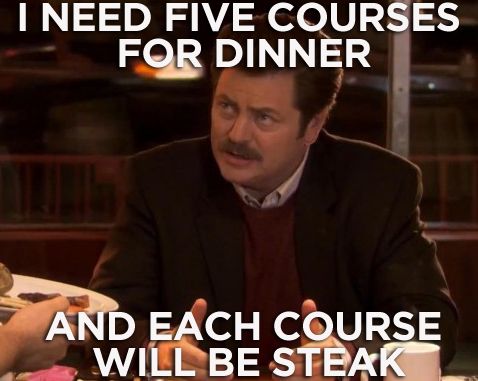 Workouts
I have been doing 200 pushups and 50 chinups 5 days a week and cardio 3-4 times a week for at least 30 minutes. I have only been lifting once a week in the gym. You read that correctly. For me, its the least "gym work" I have done in probably 10 years. I love to workout, but I hate gyms. Especially recently, because they have been packed beyond belief at all times of the day. That being said I have 3 major goals right now:
Get leaner
Get really good at pushups
Keep getting stronger on the bench press
I'm a simple man, what can I say. The bench press is my only gym workout and I'm still repping 215lbs for 6 or so reps. I think the pushups have been helping me a lot with this as well.